Hobbies FOREVER!
Why are adults still launching tabletop war?
13 March 2012

From the section

Magazine

 

comments
Warhammer 40,000 – set in a science fantasy universe – has just turned 25. Why are grown men still launching tabletop war?
You may have walked past one of the hundreds of Games Workshops on the High Street. You may even have wandered in, especially if you are a teenage boy or the parent of one.
If you know your Necrons (virtually invincible soulless metal warriors) from your Dark Eldar (sadistic elfin pirates), the chances are you are one of the dedicated tribe who have signed up to what fans call The Hobby.
Most days of the week, on table tops in "hobby centre" shops, in office lunchrooms, and bedrooms, players gather around home-constructed battle fields with miniature ruins and petrified forests. They assemble and paint small model fighters from a chosen army (several to collect) and using dice, tape measures and special rule books, battle rival militia in a fictional science fiction universe set in the 41st Millennium, called Warhammer 40,000.
Launched 25 years ago, 40K was so named to distinguish it from traditional fantasy Warhammer of elves and vampires. Both lines, together with a Lord of the Rings brand, continue to attract hundreds of thousands of new fans in Britain and across the world – 70% of sales are abroad.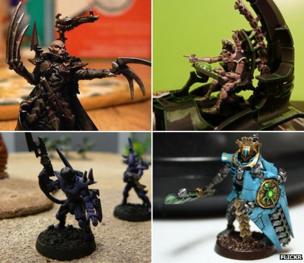 Share This:
by
by