New Releases 4/21/2017
Delve into the stunning technologies of Star Wars with Technological Terror, the sixth Force Pack in the Opposition cycle. Within this pack's five unique objective sets, you'll find astromechs, assassin droids, Imperial shuttles, and beat-up Skyhoppers. Like the other expansions throughout this cycle, many of these objective sets and new fate cards play into the rivalries between factions, goading the Jedi against the Sith, the Imperial Navy against the Rebel Alliance, and the Smugglers and Spies against the Scum and Villainy. No matter which side you fight for, you'll find the technology to support your goals in this Force Pack.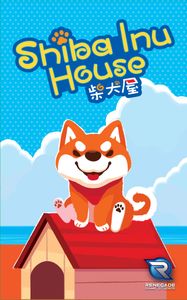 Shiba Inu loves sitting on the roof, staring at the sea, imagining that his master will make him a new dog house, imagining that there will be pork chops for lunch. Wait! Did someone just say pork chops? Shiba Inu is now drooling and jumping up and down on his roof…
In Shiba Inu House, players race to place cards properly in order to create doghouses for the shiba inu that match the patterns shown on their goal cards. After eight rounds, the player with the highest score wins.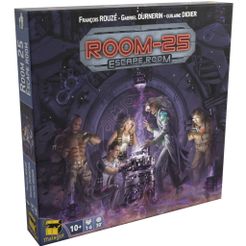 In Room-25 Escape Room, Your favorite TV show is back with major developments! Discover the new rooms but also the two new cooperative game modes where you will need to  unlock together the Secret Code rooms in order to escape!  In Escape Room mode resolve 4 of the 40 riddles in games with difficulty increasing. In Puzzle mode coordinate your actions to place each Secret Code rooms in the requested position.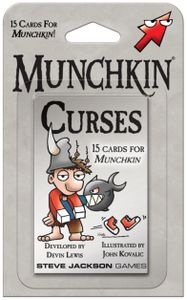 Admit it. You love that moment when your enemy kicks down the door, and the card they draw is – a Curse! Almost as much as you love playing Curses on your enemies yourself. Whether it means losing items, skipping turns, or stumbling across a duck imbued with pure doom, a Curse always brings in an element of gleeful mayhem.
That's why the Munchkin Curses booster contains twelve new Curses, two new monsters, and one Curse Reverse to shuffle into your Munchkin game!
Through the Ages: A New Story of Civilization is the new edition of Through the Ages: A Story of Civilization, with many changes small and large to the game's cards over its three ages and extensive changes to how military works.
Through the Ages is a civilization building game. Each player attempts to build the best civilization through careful resource management, discovering new technologies, electing the right leaders, building wonders and maintaining a strong military. Weakness in any area can be exploited by your opponents. The game takes place throughout the ages beginning in the age of antiquity and ending in the modern age.
One of the primary mechanisms in TTA is card drafting. Technologies, wonders, and leaders come into play and become easier to draft the longer they are in play. In order to use a technology you will need enough science to discover it, enough food to create a population to man it and enough resources (ore) to build the building to use it. While balancing the resources needed to advance your technology you also need to build a military. Military is built in the same way as civilian buildings. Players that have a weak military will be preyed upon by other players. There is no map in the game so you cannot lose territory, but players with higher military will steal resources, science, kill leaders, take population or culture. It is very difficult to win with a large military, but it is very easy to lose because of a weak one.
Victory is achieved by the player whose nation has the most culture at the end of the modern age.
Notable Restocks!
In Captain Sonar, you and your teammates control a state-of-the-art submarine and are trying to locate an enemy submarine in order to blow it out of the water before they can do the same to you. Every role is important, and the confrontation is merciless. Be organized and communicate because a captain is nothing without his crew: the Chief Mate, the Radio Operator, and the Engineer.
All the members of a team sit on one side of the table, and they each take a particular role on the submarine, with the division of labor for these roles being dependent on the number of players in the game: One player might be the captain, who is responsible for moving the submarine and announcing some details of this movement; another player is manning the sonar in order to listen to the opposing captain's orders and try to decipher where that sub might be in the water; a third player might be working in the munitions room to prepare torpedoes, mines and other devices that will allow for combat.
Captain Sonar can be played in two modes: turn-by-turn or simultaneous. In the latter set-up, all the members of a team take their actions simultaneously while trying to track what the opponents are doing, too. When a captain is ready to launch an attack, the action pauses for a moment to see whether a hit has been recorded — then play resumes with the target having snuck away while the attacker paused or with bits of metal now scattered across the ocean floor.
America in the 19th century: You are a rancher and repeatedly herd your cattle from Texas to Kansas City, where you send them off by train. This earns you money and victory points. Needless to say, each time you arrive in Kansas City, you want to have your most valuable cattle in tow. However, the "Great Western Trail" not only requires that you keep your herd in good shape, but also that you wisely use the various buildings along the trail. Also, it might be a good idea to hire capable staff: cowboys to improve your herd, craftsmen to build your very own buildings, or engineers for the important railroad line.
If you cleverly manage your herd and navigate the opportunities and pitfalls of Great Western Trail, you surely will gain the most victory points and win the game.
Releasing Saturday April 22nd
The Arkanaut Frigate represents centuries of refinement by the shipwrights of the Endrineers Guild. In its design, a balance was struck between speed, transport capacity and firepower to create a versatile craft that could serve as the mainstay for the airfleets. With its sleek hull and powerful buoyancy endrin, the Arkanaut Frigate is fast and powerful enough to escape the gravitational drag of a density hole, while retaining enough firepower to level a city should the need arise.
This multi-part plastic kit contains the components necessary to assemble an Arkanaut Frigate. Smaller than an Ironclad, larger than a Gunhauler, it dominates the skies by means of its dirigible and is covered in weaponry – a heavy skycannon or skyhook as a front-facing main weapon, with aethershot carbines, grudgesettler bombs, skymines and detonation drills attached to the hull, with belaying valves for ramming-speed assaults.
A huge ancestor figurehead glares balefully from the prow, and the duardin crew is appropriately detailed – a captain stands before the instruments and wheel, a navigator perches in the crow's nest, sextant aloft and an endrinrigger wields an oil can and hammer, fervently replacing rivets and lubricating components to keep the Frigate skyward. Most of these details can be modelled on the frigate in different ways; there's plenty of space on the side of the hull to name the ship. Paint it on in duardin runes for authenticity!
This kit comes as 88 components and includes a Citadel 120mm Oval base, with a 50mm ball and socket flying stem.
When it comes to feet on the ground, the Arkanaut Companies form the Kharadron Overlords' main fighting forces. Descending swiftly via a Frigate's grav-ladders or suspension ropes, an Arkanaut Company can deploy rapidly into the fray.
This multi-part plastic kit contains the components necessary to assemble a 10-model Arkanaut Company. They have a variety of weapons available: each wields a privateer pistol and Arkanaut cutters, and up to 3 models can optionally take one each of a skypike, multi-barrelled aethermatic volley gun or light skyhook. Their Captain can take either a volley pistol or aetherflare pistol, and has the option to brandish an anchor!
The Company themselves are the main fighting troops of a Kharadron Overlords army, and thus haven't yet accrued enough aether-gold to make their armour as ornate as that of their superiors. Still, they sport magnificent metal beards, and their sealed suits are replete with the valves and fittings needed to keep them alive.
This kit comprises 83 components, and is supplied with 10 Citadel 25mm Round bases.
Battletome: Kharadron Overlords introduces a new duardin army into the worlds of Warhammer Age of Sigmar. A militaristic, mercantile society detached completely from the other branches of duardin that populate the Mortal Realms, they treat war and trade as much the same thing – a means to amass wealth; and they excel at both. More than anything, they seek aether-gold – this lighter-than-air element is their society's lifeblood, holding their cities aloft, fueling their ships and powering their elaborate armour. Great sky-fleets of warships descend from dozens of sky-ports when a rich seam is discovered; the Kharadron Overlords will fight bitterly to accrue this vital substance, and the status it brings.
In the 144-page hardback Battletome: Kharadron Overlords, you'll find:
Background
– A detailed explanation of the Kharadron Overlords – how their floating cities, the sky-ports, are powered and populated, their
motivations for acquiring aether-gold and their use of the Kharadron Code;
– Information on 6 of the most powerful and important sky-ports amongst the dozens – Barak-Mhornar, Barak-Zilfin, Barak-Thryng, Barak-Zon, Barak-Nar and Barak-Urbaz – explaining the differences in their attitudes toward life and the Code, with a map of locations;
– A timeline of Kharadron history – the exodus that formed them, the establishment of the unifying Kharadron Code and the discovery of aether-gold;
– Their economic system (complete with financial figures for the major sky-ports!), and the Guilds that keep this massive, vital chain of commerce moving;
– The core structure of a Kharadron sky-fleet: while each sky-port has its own quirks, each draws upon the same hierarchy when building a fleet;
– Uniform guides, heraldries and colour schemes for each of the 6 sky-ports detailed in the Battletome, with descriptions of the units and skyvessels each skyport fields.
Rules
– The Sky-Ports: each of the 6 named sky-ports in the Battletome have their own unique interpretation of the Kharadron Code, meaning their armies vary wildly in terms of play style – this includes unique Abilities and Artefacts of Power, and unique amendments to the included Warscroll Battalions:
– Barak-Nar armies are masters of science, and are adept at unbinding the spells of their enemies using aethermatics;
– Barak-Zilfin armies are the finest aeronautical sailors, whose units can move and dodge with unprecedented speed;
– Barak-Zon armies seek glory in valour, and rarely shy away from a fight, charging in and attacking with gusto;
– Barak-Urbaz armies are alchemical geniuses, with a higher capacity for artefacts of power;
– Barak-Mhornar armies are indefatigable opportunists, striking suddenly from unexpected quarters;
– Barak-Thryng armies hold unbreakable grudges, and will fight to the death until scores are settled;
– Allegiance Abilities, Command Traits and Battle Traits for armies who belong to sky-ports other than the 6 named in the book – combine Artycles, Amendments and Footnotes to assemble your own interpretation of the Kharadron Code;
– Artefacts of Power: Great Endrinworks to be assigned to any Kharadron Skyvessel with Aethermatic Weapons and Treasures of the Sky-Ports for Kharadron heroes;
– 5 Battleplans: fight battles that epitomise the Kharadron Overlords' way of war, with unique rules for each;
– 5 Warscroll Battalions, providing extra rules and special tactics for collections of miniatures;
– 12 Warscrolls, containing the rules for your Kharadron Overlord miniatures;
– Pitched Battle profiles with points values for every miniature and Warscroll Battalion;
– A guide to a Path to Glory campaign – create a warband to fight alongside a Hero, and gain favour throughout a series of battles, gaining followers, swelling the ranks and earning rewards, eventually cementing the warband's place in history;
– Tips on building and deploying your force, with example armies featuring hints on deployment direct from the designers.
Painting & Modelling
– A guide to Citadel paints for the beginner, detailing how each paint type is applied and in what context;
– Detailed, stage-by-stage guides presenting the colours and techniques used to paint the armies of the 6 named sky-ports;
– Kharadron Features: this goes into that little bit more detail on certain aspects of Kharadron miniatures – the portholes, dome and optics, along with verdigris, a basic guide to markings, weathering and constructing scenic bases;
– Tips and tricks for streamlining and improving your hobby: sub-assemblies, kitbashing and painting artifacts.
An Arkanaut Admiral is the leader of an airfleet. An Admiral does not have a ship of his own, as each ship has a Captain at the wheel, but will nominate one craft as his flagship. It takes success and tremendous profit for a duardin to catapult themselves into the upper echelons of the airfleets, and individuals that have done so are battle-scarred veterans that have seen countless wars, boarding actions and aerial bombardments.
This multi-part plastic kit contains the components necessary to assemble an Arkanaut Admiral. He leads Kharadron Overlords armies into battle by example, charging into the fray wielding a huge skalfhammer and volley pistol. His knowledge of the Kharadron Code is second to none, which proves a great advantage in a fight. His ornate armour is covered in pipes, valves and gadgets – years of service have meant many augmentations to make combat and leadership easier. The miniature stands atop a molten heap of industrial waste, adding detail to his base.
This model comes as 12 components, and is supplied with a Citadel 32mm Round base.
Far above the highest mountain peaks, a new power has arisen. In secrecy they have grown strong, developing new technology and weapons of war. Guided by their Code, the Kharadron Overlords have sent forth their sky-fleets, commanding to return with riches, or not at all…
This pack of 12 large-format cards contains the each of the unit Warscrolls from Battletome: Kharadron Overlords, printed on individual cards for handy reference in your battles, along with a selection of gaming tokens – use these to indicate the Allegiance Abilities, skills and statuses used by your models in games of Warhammer Age of Sigmar.
Please note, you'll need a copy of Battletome: Kharadron Overlords to use the contents of this set.
Share This:
by
by